The Show
True Fire is a podcast series that explores in depth the events that led up to line-of-duty deaths of American firefighters. Each episode is a docudrama — a factual re-telling of the incident with some added dramatic tools, such as sound effects and music. These help to create the picture in the listener's mind of what was going on at the time.
Our goal with True Fire is to memorialize the firefighters lost as they fought to save lives and preserve property. These people have given all in a job which most couldn't imagine doing. Without them, our world would be a more dangerous place, and while they universally refuse the title "Hero," their actions often go far beyond the requirements of the job and are, by definition, heroic.
The Producer
True Fire is written and produced by Scott Orr. Scott is also the host of another weekly podcast, Code 3, which is a show for and about firefighters.
Scott is an award-winning journalist (Emmy, Edward R. Murrow, Associated Press) who covered Fire/EMS/Police for most of his 35-year career as a newsman.  He's worked around the country in both TV and print journalism. During that time, Scott covered hundreds (maybe thousands) of stories about firefighters and done dozens of ride-alongs.
By the way, yes–his voice is screwed up: he has Parkinson's disease.
But he is determined not to let that stand in the way.
Scott doesn't pretend to be a firefighter (although he's attended a couple of Fire Department Citizen's Academies–including one where he was the only student who asked to pull a supply line and make the hydrant), but he has a deep respect for the men and women of the fire service.
Like a lot of fire service professionals of his generation, Scott also was (and is) a fan of the 1970s TV series "Emergency!"
He was, for many years, a member of the Civil Air Patrol, the U.S. Air Force Auxiliary, having achieved the rank of captain, and was trained in ground search and rescue techniques as well as emergency medical protocols, not to mention numerous ICS courses.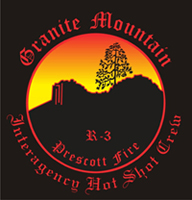 By far, the most impactful story he covered personally on his beat as a reporter was the death of the 19 members of the Granite Mountain Interagency Hotshot Crew in 2013, members of which he knew from his time working as a reporter in Prescott.
Of course, no one who was alive on September 11, 2001 can ever forget the 383 members of the FDNY who lost their lives at the World Trade Center. Scott was working in Phoenix when the attacks happened and was able to see, first-hand, the outpouring of public support for those killed.
The Narrator
Abby Bolt started her career in wildland fire, on an elite Hotshot Crew. Continuing on in her career she became a helicopter rappeller, Engine Captain, and
moved up the chain of command to battalion chief. Abby fought and managed fire beside the best of the best in the industry.
In 2012, while on assignment, Abby was sexually assaulted by a firefighter who was not a member of her team. Her trust in leadership quickly went up in flames. She realized not only would she have advocate for herself in this situation… as a leader, she was going to have to be an advocate and teach others how to lead with F.I.R.E. (fearless, integrity, resilience and empathy).
In her quest for justice, Abby spent countless hours searching for solutions and found none. With that realization, she set out to create the resources that were lacking. Abby now draws from her experience in leadership, as well as the wisdom she learned as a firefighter to coach others how to lead with fire in their lives, in the workplace and beyond.